Fly Fishing School
1 888 PRO UTAH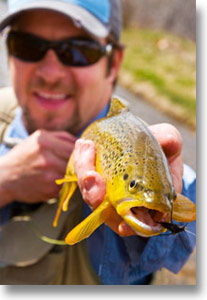 Accommodating Fly fishers of all skill levels, our unique on-water fly fishing school combines in depth instruction with a fully guided and outfitted excursion on the Provo River.
Provo River Outfitters is proud to endorse their own unique brand of fly fishing school called simply, The Provo River Fly Fishing School. You will learn about the special equipment involved, about trout, their habits, the foods they eat and the flies they prefer.You will also be donned with a fly rod, boots, waders and all of the flies needed as you enjoy the peace and the magical rhythms of fly casting. Imagine wading a beautiful riffle, learning to fly fish while catching wild and feisty Brown, Rainbow & Cutthroat trout.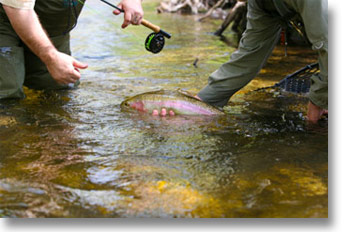 We've just found it to be a lot more fun than standing around with boring bug charts, while casting a stick and yarn to imaginary fish on some lawn. And so you know, there are no 20 people per instructor groups in our schools. You are guaranteed personable service because we never put more than 2 people with any of our guide/instructors. We know you'll probably have questions, and we will be right by your side to answer them.
Our schools are offered every day of the year in 4, 6, and 8 hour sessions.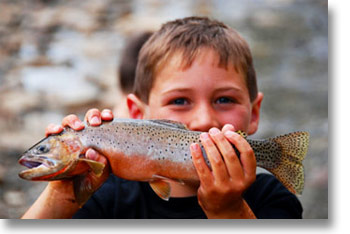 Enlightening and entertaining, the Provo River Fly Fishing School is highly recommended and thoroughly enjoyable. And the skill sets you'll learn here can easily be applied to trout anywhere. What better way to spend a beautiful day than learning to fly fish? And we think what better way to learn to fly fish than standing knee deep, catching wild trout in one of the most incredible rivers in the West.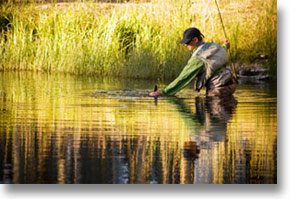 To ensure your booking, we recommend giving us as much notice as possible as we do fill up well in advance. If you have further questions or would like to make your reservations now, we are here for you. Please call or email for current prices. Call us toll free at the number listed above. Or, simply email us by clicking here.  We look forward to helping you set up the fly fishing trip of a lifetime.