Utah Fly Fishing Guides & Outfitters
1 888 PRO UTAH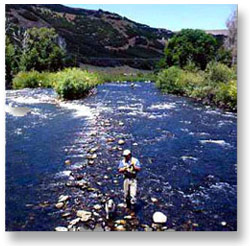 You acted on instinct. You saw, you dreamed, and you then called Provo River Outfitters in Utah, made your reservation for some amazing fly fishing, escaped the office and here you are live and in person with spectacular Utah trout water stretched before you. The weather is nice, very calm, very relaxing, and so much so that you actually yawn in response to your guide's humorous anecdote. He doesn't notice, too deep in thought as fly fishing guides tend to be.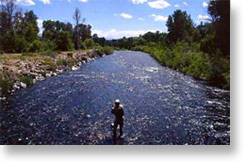 Here you are taking in the smells, the sun, and soaking up the pure enjoyment of what surrounds you. Then your guide opens up his dry fly box, places it before you and says, "Here, choose".
After being entranced for a brief moment at the colorful
selection,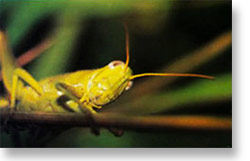 the fly you end up picking is a big, juicy looking
Grasshopper imitation. (Your guide mildly winces at your selection. Not because he thinks it won't work, but because he knows it took him almost an hour to tie it.) While your fly fishing guide is busily tying on your fly you spot a large fish cruising and I mean LARGE fish cruising. He eclipses a sunken stump as he swims by. With a sixth sense of the situation at hand, your guide quickly hands you the rod. You remember (even though your own name escapes you) everything you've learned about fly casting... you stay low and find yourself in perfect rhythm. The cast is large, very nice and with a wonderful SPLAT the fly hits the water.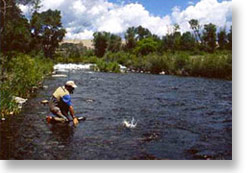 The Hopper sinks firm and the water literally explodes. In disbelief you watch as in less than 2 seconds the swimming behemoth whips around, darts like a torpedo and *CRUSHES* your poor Hopper! You still stand there in disbelief as your stressed and overworked guide is yelling, "Set! Set!" You then lift the rod and do just that. The Hopper sinks firm and the water literally explodes. Like a possessed demon this fish takes to the air in sparkling cartwheels amidst an amazing display of power and speed. The fly reel screams the song of dreams, your pulse is pounding and your fly line is no longer to be seen. After a long and exciting duel the monster comes close. You think you've got him as that same trout once again starts lunging towards the sunken stump. Just when it's almost over he spins and heads the other way.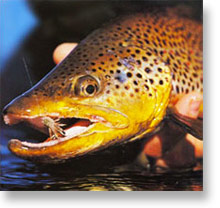 You sigh relief. The gods are with you but the fight is not over. The battle is intense, exciting and you persevere. The sun is bright and warm and you gasp as the trout's silvery side glimmers at the surface. With one last delicate heave the gleaming gargantuan comes slowly and grudgingly to the net.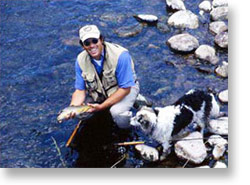 To feel the heft of a fish like this can never be given justice with mere words. Pictures and more pictures your guide clicks off as you grin cheesily.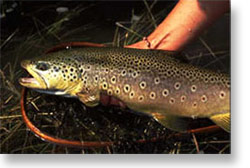 The beautiful Brown Trout is released, and while it swims away you watch. Your guide washes his net and takes one more stab at being humorous. This time you laugh.
We are the fly fishing guides of Provo River Outfitters and would love to have you join us for a few days on our hallowed trout waters. For more information, please read on, send us an email or give us a call. We look forward to helping you set up the Utah fly fishing trip of a lifetime.